Lindt replaces plastics by award winning cardboard packaging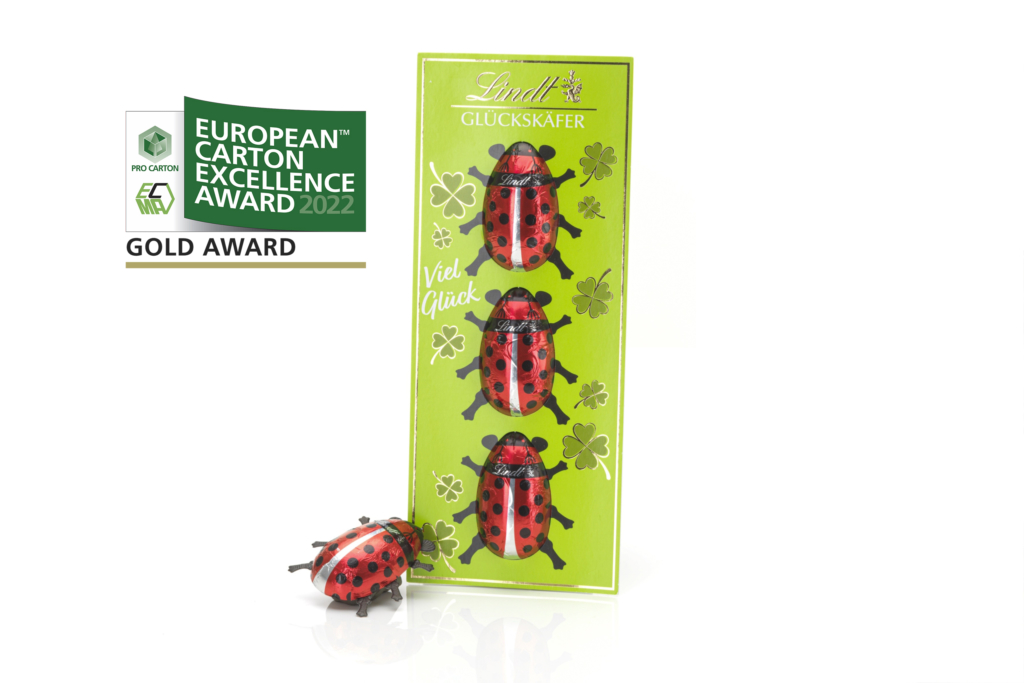 Vienna, September 2022. Lindt & Sprüngli GmbH in cooperation with Cardbox Packaging Wolfsberg GmbH have developed a new award-winning packaging solution for their chocolate ladybugs. The set of chocolate ladybugs has switched from the plastic packaging into a completely recyclable cardboard solution, with the goal to support sustainability and still maintain attractiveness for consumers.  Value added packaging features lies in finishing techniques as well. Delicious milk chocolate filled with almond creme in the new packaging guarantees the gift wanted by consumers.
SUSTAINABILITY
The Glückskäfer used to be in a PET red coloured thermoformed inset and packed with a PP foil. Cardbox Packaging has replaced all plastics with the recyclable cardboard solution, which aim is based on renewable resources principle.
AESTHETIC APPEAL
Lindt keeps focusing on design attractiveness, which is highlighted with the hot foil stamping and unique packaging construction.
CONSUMER MARKETING
The packaging change to cardboard gave the product many new options to communicate with consumers. Not only to focus on the sustainability concept, but also to support sales by impressive printing options with new finishing techniques.
CUSTOMER EXPERIENCE
This packaging is a logistically optimal product as its flat structure allows easy transportation and minimum damage during the process. The chocolate ladybugs fit the form well and are attached by the additional cartonboard part – ladybugs' legs.
GOLD EUROPEAN CARTON EXCELLENCE AWARD
The European Carton Excellence Award is Europe's most prestigious award for cartonboard packaging. It is organized by ECMA and Pro Carton while the professional jury was judging various criteria like graphic and structural design, production techniques, cost-efficiency, ecology, sustainability, innovation, convenience etc. Considering many advantages of the new packaging, it was recognized by Gold Award. The winners were announced on 15th September at the award ceremony in Krakow, Poland.
About Cardbox Packaging
Cardbox Packaging is an international producer of high-quality and sophisticated cardboard packaging in the luxury and branded goods sector, with a particular emphasis on the food industry. Maintaining the highest quality standards and ensuring customer satisfaction are its top priority. Cardbox Packaging benefits from its lean structure with locations in Austria (Wolfsberg and Pinkafeld), the Czech Republic (Zádveřice), Serbia (Belgrade), and the United States (Pittston, PA). It is an attractive, expert partner for the European and American markets, particularly in the confectionery, food, cosmetics, and healthcare sectors.