Cardbox Packaging has been awarded at European Carton Excellence Award 2019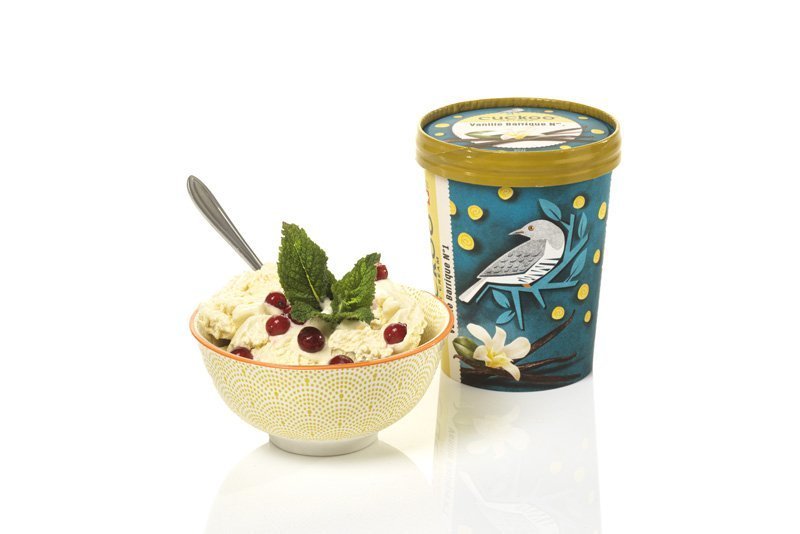 Cardbox Packaging, an international producer of high-quality cartonboard in the luxury and brand-name goods segment, received the ECMA Award 2019 in the "innovations" category at the Pro Carton Congress in Malta. Every year, the awards for special carton packaging are presented by the European Association of Carton and Cartonboard manufacturers, in ten categories. There were two compelling packs for the innovation award and the jury decided that one award would be given for most innovative material and the other for most innovative piece of packaging.
Therefore this environmentally-friendly pack is just as exclusive as the special ice cream recipe which features vanilla from oak barrels. The brand owner of the packaging, Cuckoo Ice Cream, can present their product in this outstanding piece of packaging to the consumers who can enjoy this special treat with a clear conscience. Not only is the cup made from bio-coated cartonboard, but so are the lid and the paper seal. "We are very excited that our ice cream has been awarded with the prestigous Innovation Award from ECMA. This award confirms that we are the right track with our development strategy. I can announce that we are closely to bring to market very promising new developments with barrier coatings." said managing director of Cardbox Packaging group, Klaus Hockl.
Awarded Packaging from Cardbox Packaging
The Packaging was made up in Cardbox Packaging Wolfsberg, in cooperation with Valuepap as structural designer and Scandinavian company Stora Enso as cartonboard supplier. The jury of European Carton Excellence Award decided for this winning Packaging, claiming: "This could be a real game changer as the pack is made of a bio-coated cartonboard which also has a lovely soft touch feel, not often seen in the ice cream category. It is compostable due to the materials used."
We invite you to meet us at FachPack 2019 in Nuremberg to present more other solutions for luxury and sustainable packaging! Visit our stand 532 in hall 7, it will be pleasure to present our portfolio.