Cardbox Packaging awarded at WorldStar Packaging Award 2021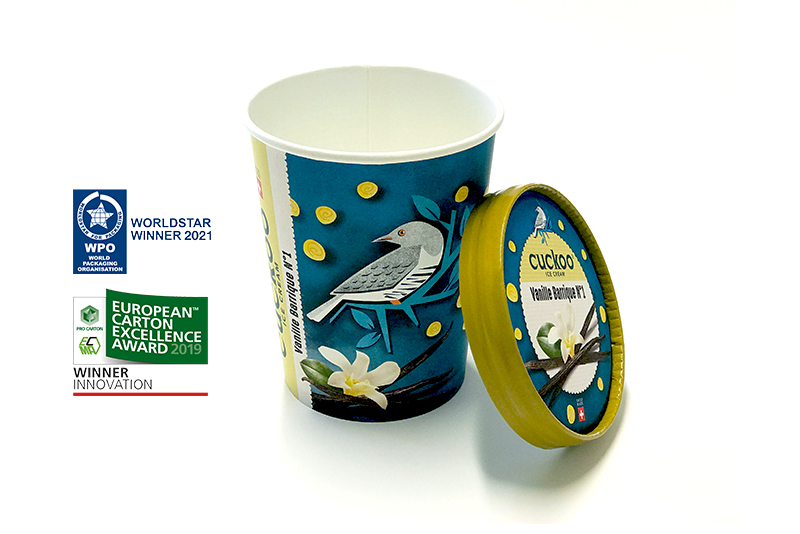 Vienna, January 2021. Cardbox Packaging is honored to announce that the company has received an official pronouncement of winning the WorldStar Packaging Award 2021 in the Food category. The awarded packaging is Cuckoo Ice Cream cup which attracts mostly by its material innovations based on environment-friendly packaging solutions.
VALUABLE SUSTAINABILITY
In cooperation with Valuepap as structural designer, Cardbox Packaging in Wolfsberg has developed a perfect alternative to plastic laminated ice cream cups which are a common part of food packaging industry. This premium sundae pack is made of bio-coated cartonboard with a soft touch finish.  It impresses with its design and is compostable according to EN 13432 due to the bio-coated materials used. "It is always a big challenge to start a new project, but in Valuepap we are more than delighted working with Cardbox on such innovations. It is great to work on projects that we believe have a promising future." explains Hans Pridal, managing director of Valuepap.
Not only is the cup made from bio-coated cartonboard, but so are the lid and the paper seal. Therefore the whole packaging can be disposed without harmful effects on the environment, which is recently a popular customer demand. "We are very excited that our ice cream packaging has been awarded with the prestigious prize from Worldstar. This award confirms that we are the right track with our development strategy. I can announce that we are closely to bring to market very impressive new developments with barrier coatings." said managing director of Cardbox Packaging group, Klaus Hockl.
ANOTHER SUCCESS FOR THE PACKAGING
Cardbox Packaging has entered WorldStar Packaging Awards for the first time, and certainly not for the last time. Moreover, Cuckoo Ice Cream has already been awarded with the European Carton Excellence Award 2019, in Innovations category (link). The jury commented on that: "This could be a real game changer as the pack is made of a bio-coated cartonboard which also has a lovely soft touch feel, not often seen in the ice cream category. It is compostable due to the materials used."
World Packaging Organisation (WPO), the organizer, is annually recognizing the best of the best in packaging innovations from across the globe. Every year WorldStar receives more than 300 entries from more than 35 countries around the world. The objective is to increase awareness on the importance of packaging in order to have a better life, to recognize the innovation and efforts of brand owners, designers, students and branding agencies for creating packaging solutions of the future, and to respond to new challenges and global trends.